Agricultural Drive Belts
Well known for Agricultural Drive Belts for farm equipment, PIX Agricultural Belts work in any of the arduous environments encountered while operating.
List of all our Agricultural belts and Lawn & Garden belts. This will give our code we use and then in the name column this will give you the make, model or description of the part. Towards the bottom of the list, you'll come to 'Special Lawn and Garden Belts' which may be a good starting point, as we have recently added domestic lawn and garden belts to our range. For example belts like Belle, Atco, Qualcast, Bosch Mountfield SP125R, Honda and more.
Subjected to strenuous operations, the dust,soil, stone granules, stray remains of the harvested crops that they are likely to come across in operation. The drive belt is often subject to extreme weather conditions such as warm and summer days and a cold winter time.
Nevertheless the Agricultural Belt drive also uses a small size idler, which in turn puts a lot of pressure on the Belt resulting into unavoidable increase in temperature and may cause the Belt to deform & reduction in its life. All these factors calls for a very special construction for the Agricultural Belts which are used in the harvester combines and tractors.
PIX, which owns the reputation of manufacturing high quality application specific Belts, has developed Belts meant specially for the agricultural industry, commonly called as Harvester Belts. PIX Harvester belts are the result of its over four decades of research and experience in the field of agricultural mechanical power transmission industry, where the Belts are subject to stringent conditions.
The Belts are made resistant to all the extremities encountered in the Harvester Combines and related agricultural applications.
Considering the huge and varied demand for the equipment used in agriculture. PIX has developed a huge range of belts covering the entire spectrum of Agricultural application from Harvester Combines to the tractors and the equipment used as an attachment to the combines or tractors.
PIX-Agricultural Belts are designed to follow the international standard norms used by the original equipment manufacturers and are widely used in the replacement market and offer a trouble-free and zero-maintenance life.
PIX-Agricultural Belts are available in Wrap (Conventional), Raw Edge Cogged, Variable Speed, Poly-V, Banded type and in Flat construction.
PIX Agricultural Belts are made up of -
Tough tensile members with specially formulated rubber compound to withstand the rough and tough conditions encountered in Harvester Combines.
They are resistant to shock loads, vibrations and high abrasion with very low elongation.
They are antistatic and oil resistant.
PIX Belts manufactures a dedicated range of Lawn mower belts specifically designed to withstand the rigours of Grass Machinery applications. Such has been the success of these products that PIX is the choice for many of the manufacturers in the Lawn and Garden industry.
Lawn and Garden Belts for Push & Electric Mowers. Stock to fit as - Black&Decker, Flymo, Mountield, QUALCAST, BOSCH & ATCO.

LAWN & GARDEN BELT FEATURES
Belts have large diameter ARAMID cords, impregnated with special compound which eliminates the need for re-tensioning and offers:
High tensile strength
Non-extensibility
High resistance to shock loads
Belts are covered with a double wrap of special fabric to ensure:
High resistance to wear and tear
Reduced slippage while clutching
LAWN & GARDEN BELT CHARACTERISTICS
Able to withstand high levels of reverse flexing.
Usually associated with "serpentine" drives, and external idler placement.
High resistance to oil, heat and cracking.
DOUBLE SIDED TIMING BELTS
DOUBLE SIDED TIMING BELTS FEATURES
Double sided provides power transmission capacity from both sides of the belt.
Highly flexible belt with load carrying capacity, similar to single-sided timing belts.
Belt design gives extended durability, strength & excellent flex life.
Maintenance free.
Highly resistant to elongation.
Reduced noise level and smooth running.
Extensive range, specially constructed belts, tested and approved to suit many OEM-specific applications.
Attractive, aesthetic qualities - coloured by "dry cotton" - type wrap is synonymous with the belts used by major quality OEMs.
Available in standard sections - 3L, 4L and 5L.
Also available in an extensive range of OEM-specific sizes, where they are specially constructed and tested to OEM specification. These are identified from the manufacturer's original reference, and meet virtually every aspect of the originals in design, construction and performance.
STANDARDS, DIMENSIONS & PRODUCT RANGE
Section
Dimensions
Angle (Deg)
Standard
Recom. Min Pulley Dia. (mm)
Manufacturing Range
Top Width (mm)
Thickness (mm)
Min
Max
Length Desig.
3L
10
6
40
RMA IP 23
39
266
4064
Belt No. ÷ 10 = Outside length in inches
4L
13
8
40
RMA IP 23
64
381
9144
Belt No. ÷ 10 = Outside length in inches
5L
17
10
40
RMA IP 23
89
533
5588
Belt No. ÷ 10 = Outside length in inches
Product Range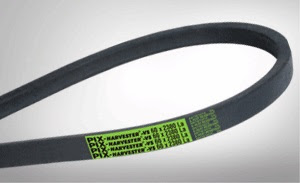 PIX-Harvester®-XS
Wrap Belts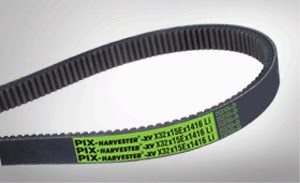 PIX-Harvester®-XR
Cogged Belts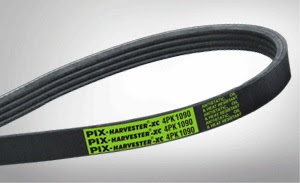 PIX-Harvester®-XC
Poly-V Belts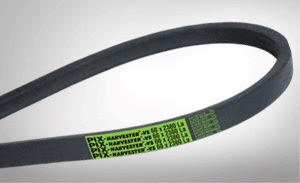 PIX
Combine Harvester Belts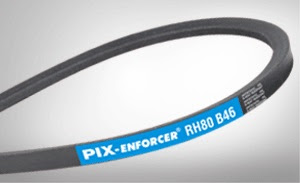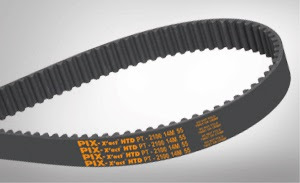 PIX
Potato Harvester Belts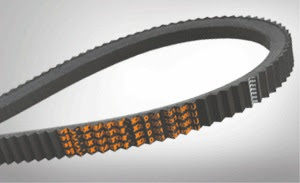 PIX-Extractor®-XS
Carrot Harvester Belts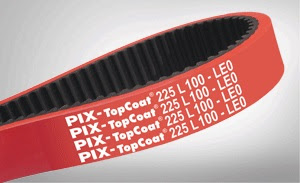 PIX-TopCoat®
Machinery Belts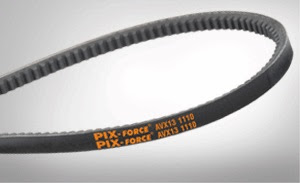 PIX-Force®
Tractor / Tiller Belts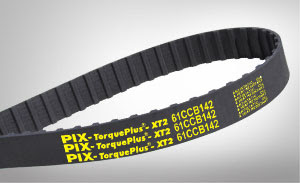 PIX-TorquePlus®
Cotton Cleaner Belts